Contact
support@echoone.com
Echo One
Henrik Dalgaard,
Rosenfeldt 40
3600 Frederikssund
Denmark

Phone: +45 47383921

Support
If you don't find the help you need in the manual, the "read me" or here you are welcome to send an email.
You will likely get a better answer if you include your original images with your question.
Echo One is in Denmark, in the Central European Time zone, so be patient when it is night here.
How To Enter Your Registration
Copy and paste your name and the serial number from the registration email to DoubleTake. More details on this.
Lost Registration Codes
Send me an email. Your name and address is helpful for looking up your purchase.
Installation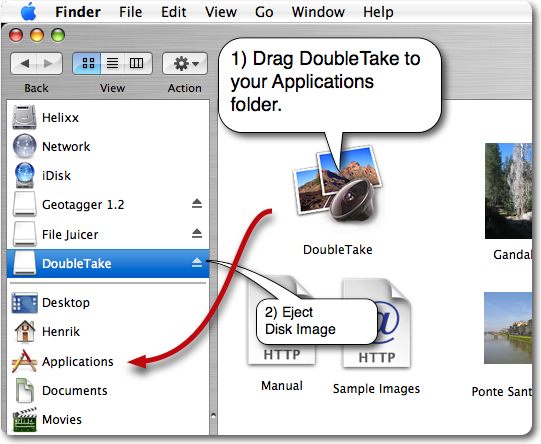 Download DoubleTake
Drag DoubleTake to your applications folder
Eject the disk image
When DoubleTake is running it will appear in the "Dock" on the bottom of your screen. You can control-click the mouse there to get a menu so you can keep it there even when DoubleTake is not running.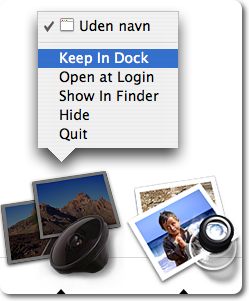 Watch these screen recordings of how to download and drag to your applications folder, drag to your dock and click eject to eject the disk image.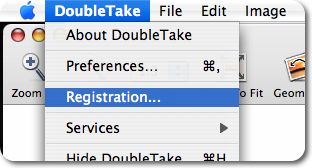 Registration
When you have purchased DoubleTake you will receive an email with the registration code and registration name. You enter them via DoubleTake's registration menu exactly as in the email. If you have not received the email it has likely been blocked by a spam filter. You may check your spam folder.
Screen recording showing how to do this.
More details here
After you have entered your code and name, the "DoubleTake" watermark will no longer be stamped in the images you save.
Send Images
Many questions get easier to answer if you show what it is all about. You can send me large emails if you keep them under 50 MB. For more exotic problems I need the original images, not smaller copies scaled down to email size (unless they also show the problem). Also save your panorma as a doubletake file so I can replicate your exact layout of the images and the settings you use.

An alternative to email is Dropbox which allow you to share 2GB of files for free (they hope you like this service so much you will buy more space). Upload your images (archive as zip if more than one) there and send me a link.
Bug Reports
The better you can describe a problem the faster I can fix it. Tell me what I need to do in as much detail you think I need, and assume I have not seen or heard about it before. Screen shots are most welcome. I will likely ask you for which version of Mac OS you use or log files.
You can help me even more if you send me one of the technical log files which Mac OS makes when an app crashes. 17 second video which show you how to send a crash log with the Console application which you find in your Utilities folder.